Chocolate Ice Cream
RM24.90
Keto Compliant
Sugar Free
Gluten Free
Safe for diabetic patients
More information down below
Ingredients : Whipping Cream, Cocoa Powder,Coconut Milk, Almond Milk, Xylitol and Chocolate Essence. 

Storage Suggestions :
Our goods have no preservatives and stabilizers.
Kindly keep the ice cream for up to 3 months in the freezer when you receive it .
Allergy Notes : This product contains dairy and nuts.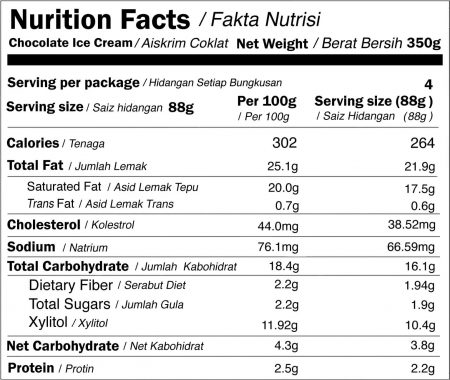 Please note that your order must be picked up within 24 hours of the selected Pick-up Date & Time.  We cannot guarantee quality & freshness of your order if you collect the order beyond 24 hours of the advised Pick-up Date & Time .
We do not accept walk-in orders. All orders must be placed in advance and through our website. We will not be taking orders via WhatsApp moving forward.
All unclaimed items beyond 24 hours of Pick-up Date & Time will be automatically destroyed in compliance with our best practices and quality standards.
More Savings With Carbless eWallet
With up to 25 percent rebate for all of our products, you can now get more items from Carbless for less. Now with an easier check out ordering process, great discounts and long validity.